| | |
| --- | --- |
| 📛 Name: | Kurhaus Baden-Baden |
| 🏗️ Built in: | 1766 |
| 🏛️ Designed by: | Friedrich Weinbrenner |
| Friedrich Weinbrenner | Baden-Baden, Germany |
| 📍 Address: | Kaiserallee 1, 76530 |
| ➕ Amenities: | Hotel, Casino, Spa, Meetings Hall, Concert Hall, Restaurant & Bar, Parking |
Kurhaus Baden Baden Foundation & Early Ages (1766-1900)
The establishment was built in 1766, but in its first several decades, the Kurhaus Baden-Baden was not yet a casino but a luxury spa, ready to accommodate even royal personas like the emperor of Austria Franz II, who was a regular visitor. However, we do like to emphasise that the location is preferred by wealthy people since its very beginning when it was still a wellness place.
The famous Kurhaus Baden Baden facade with the vast Corinthian columns was built in the 1820s by Fredrich Weinbrenner. From that moment onwards, Baden Baden Kurhaus Germany became a casino officially. In fact, in the 1830s, it was super popular among French gamblers because gambling in France was forbidden at that time, and crossing the border to Baden-Baden seemed convenient for many.
This was when the casino started building its reputation as a top-notch international establishment. This is the casino that inspired the legend, Fyodor Dostoyevsky, to write the famous novel "The Gambler". However, the 19th century made Kurhaus of Baden-Baden one of the best casinos in Germany and in the world. Although Kurhaus of Baden Baden wasn't one of the best online casinos in Germany, it provided unconditional gambling advantages and perks to players from all around the world. In 1874 due to new changes in the law, gambling was prohibited, so the casino was closed for the following 50 years.
In the last two decades of that period, some more improvements were made to the manor too. A new spa facility was built in 1884 in a Renaissance Revival style by Eugen Fassbender and Maximilian Katscher. Additional upgrades were made around the state and the beautiful garden surrounding the estate. In the 20th century, more changes in the Baden-Baden Kurhaus design were made too. Please keep reading to find out all about them.
Kurhaus Baden Baden Location
Let take a closer look at the exact Kurhaus of Baden-Baden location and what makes it so unique. The town is situated right next to the French border, which delivers many benefits from a touristic perspective. The closest more populated city is Stuttgart, and where you will probably land if you use international airlines. However, be advised that there is a closer airport called Flughafen Karlsruhe Baden Baden, located several miles from the city.
If you switch the map to a satellite vision, you will see that Kurhaus Baden-Baden German is satiated right next to the Black Forest. This makes it a perfect place not only for gambling in Germany but also an excellent choice for hiking and great family weekends. Therefore, we try to say that the region of Baden-Baden is convenient for all types of visitors, not only royalties and wealthy gentlemen.
Kurhaus of Baden-Baden – Development In the 20th Century
From the last paragraph, it became clear that the Baden Baden Kurhaus Germany casino was closed in 1874, but the establishment continued accommodating the European high society. For the period 1874-1934, the place went through several hall improvements and extensions. Finally, in 1934, the Kurhaus Baden Baden casino opened doors again, but not for long. With the rise of WW2, the whole establishment was closed. In general, the 20th century was a difficult period for Kurhaus Baden Baden.
Right after the war, it was used by the Russians as one of their headquarters around Europe up until 1955. You probably know that the years after WW2 were difficult, not only for Germany but for the whole global economy. It all fell in place in the late 60s when the casino was moved into the congress hall, and the Kurhaus Baden Baden started gaining popularity again.
Roughly a decade later, in 1977, a series of improvements were done in the manor. It slowly became one of the most expensive casinos in the world. In 1992 another major refurbishment was done, and this time it took three years to put every in place. Then, in March 1995, Kurhaus of Baden-Baden casino opened doors again, but with a newly renovated and modern base.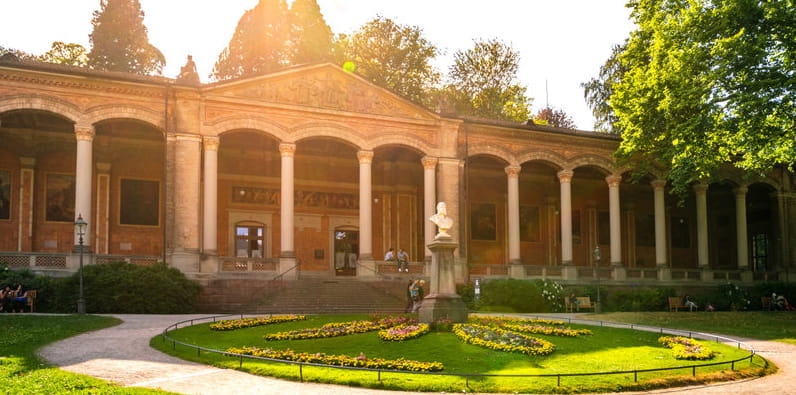 Kurhaus Baden-Baden Today
Nowadays, Baden-Baden Kurhaus Germany is still among the most expensive and luxury casinos that you can visit, and we speak worldwide. However, thanks to its over 200 years of history and colossal architectural value, the place not once hosted different events like the Chess tourney in 1925 or the Olympic Congress in 1981. In fact, in 2009, it was also picked to accommodate the NATO summit. We can only say that special events like these are a good fit for the place.
Since the millennium, the establishment was improved or more likely modernised. In 2011, the Benazetsaal was renovated, and the number of seats was increased. The point now is to keep the fantastic ancient design and find a way to incorporate modern world technology. The element below will show you the Kurhaus Baden-Baden Germany timeline for those of you eager to learn everything more accurately. This is one breathtaking and fantastic place that is worth visiting, and there is no second opinion about that.
Kurhaus Baden-Baden Timeline

| | |
| --- | --- |
| ⌛ 1766-1821 | Foundation of the manor. It was initially built to be spa felicity which accommodates only wealthy people. |
| ⌛ 1822-1911 | The iconic columns in Corinthian style were built in 1824 by Friedrich Weinbrenner. The then place started operating as a casino. It became an inspiration for Dostoyevsky and his novel "The Gambler". In the late 1800s, gambling was prohibited, and the casino closed doors. Yes, but Eugen Fassbender and Maximilian Katscher built a new spa facility that kept the public interest. The place begins to flourish and attract more and more people. |
| ⌛ 1911-1955 | Kurhaus Baden Baden remained a place for rest and wellness until 1934, when the casino opened doors again. Yes, but thanks to World War 2, the casino was closed again in 1944, and then the place remained Russian headquarters until 1955. |
| ⌛ 1955-2000 | In 1955 the casino was opened again. In the '60s and '70s, many improvements and additional halls were built to accommodate and impress more people. In 1992, Baden-Baden Kurhaus Germany closed again for renovation, but this time it took three years before it became available for visitors again. In 1995, it opened doors again. |
| ⌛ 2000-Today | The place was already recognised worldwide with its lux and breathtaking design, so it's used for different events, some official like the NATO Summit in 2009. For the last 20+ years, the place was renovated, and more and more features were either added or expanded as capacity. The manor requires a significant amount of money for maintenance and in order to keep all the architectural and cultural national treasures intact and available for visitors. |
Kurhaus Baden Baden Current Games
Once you enter the gaming hall of Kurhaus Baden-Baden, Germany, you will leave without a breath. The high ceilings with crystal chandeliers are just stunning. Probably you can guess that, but the place does not provide that many table games because it is a high roller casino where crowds are not expected. The casino offers several blackjack and roulette tables altogether with a Texas Hold 'em poker.
You should understand Kurhaus of Baden-Baden is not a usual casino, and table games are not available 24/7, only from 17:00 to 1:00. For those of you who like to keep thing simple, you will a fine selection of reel-spining games, equaly comparable to the ones found at the best online slots casinos in Germany. They are also with limited working time, but from 11:00 to 22:00. Keep in mind that you can take advantage of the public tours during the daytime if you are not a gambler and you want to see the place and its beauty.
The Future of German Gambling – Best Online Casinos In Germany
The truth is that land-based casinos like Kurhaus Baden Baden are threatened by one of the fast-growing industries of the last decades – online casino gambling. It is no secret that online casinos have many beneficial sides, and some of them we will overview now.
One of the main pros of online casinos are the generous bonus offers, but later on, we will explore that subject in detail. Another significant advantage is that you don't need to travel, spend money on petrol, parking or whatever transport you prefer to use. Usually, online casinos provide a way wider variety of games simply because they are all digital, and physical space is not needed.
Of course, when speaking of the current case – Baden-Baden Kurhaus Germany, we cannot say that any online casino can replace the feeling you experience while you are walking inside that manor. It is a beautiful place with a significant history worth seeing, even if you are not a gambler.
Some say that it is impossible for online casinos to deliver the same exclusive experience that you get in land-based casinos, but we cannot fully agree with it. In fact, due to the latest improvements of the internet and data transferring around the world, online casinos now provide live variations of their games. But what does that mean? Well, there is a table and a life croupier on camera 24/7. Of course, the dealers are regularly changing, but the game is on without a break. This is for all the players who dislike computers and RNG games, where it is all algorithm.
The tendency of online gambling platforms is growing every day, not only in Germany, but also worldwide. For those of you who like the idea of playing online, we have gathered the best live online casinos in Germany. Now is time to turn more attention to the online casino bonuses that we mentioned earlier.
The Best German Online Casino Bonus
While land-based casinos offer compliments like food or beverage, the online ones emphasise on bonus funds and free spins. Since they can't provide any physical benefits, they compensate with more generous promotions. In some cases, you will encounter promos that deliver only complimentary funds, others only free spins, and such offering a combination of both.
If we place aside the welcome bonus, you must be advised that in most of the previously recommended casinos, there are daily, weekly, monthly and occasional promotions that you can take advantage of. Almost every time you make a deposit, you get something in return. In addition, some German online casinos offer loyalty programmes that bring extra incentives to the most regular of their players.
Operator:
Sign Up Bonus:
Top Games:
Casino Rating:
Secure Link:

1.

King Billy
1000€ + 200 Free Spins
Book of Dead, High Streak Blackjack

5.00 ★ out of 5

www.kingbilly.com
On the element above you see one of the best online casino bonuses for German players. We recommend checking them all because, after all, different players have different preferences. No matter which bonus offer you choose, you should always read the terms and conditions of each promotion you take advantage of. You should look for the wagering requirement and the validity time first and then for other particularities like the available payment methods, fees, or restrictions.
FAQ
It is normal to have additional questions especially when we discuss such an establishment with over 200 years of history. For your convenience, we have prepared the most frequently asked questions about Kurhaus Baden-Baden Germany. In case you want to investigate any of the below-listed questions in-depth, you should use the link buttons located in every answer.