But how does the casino keep track of your gameplay? In order to try to qualify for Las Vegas comps, you should sign up and get a player's card. What is more important, you better use the card every time you play, so the casino knows how much and what type of Las Vegas freebie to offer. Keep in mind that these cards are individual for each gaming hall, as the comps differ.
Further in the article, we explain how to get a player's card, where to look for possible comps, which are the best comps in Vegas and more. Sin City has plenty to offer, and you have to know where to look. Stick around for some information from behind the scene and learn all the essential factors of getting comps in Las Vegas.
How to Get Las Vegas Comps?
We can say that the so-called 1st rule of getting free stuff or Las Vegas comps at the casino is all about the action you bring, not necessarily how much you lose. The main thing you need to do to get freebies is to gamble. Regardless of if you win or lose the game, most casinos will give you free stuff. That is because the casino defines your "action" as the amount of money you bet. The number of privileges rises even higher at the high roller casinos in Las Vegas.
They don't care if you win or lose. The math is pretty simple – the more action you bring to the casino, the more likely the house will keep you longer in the gaming hall. What about the free rooms, food, and beverages? They are a small cost compared to the amount of money they win per average gambler. You can also be extra polite with the hosts and staff. Besides that, outside the gaming hall, there are many places inside the casino & hotel resorts, like the restaurants, for example, where you can gain points to your player's card and get closer to the freebies.
Player's Card – Getting Comps in Las Vegas
The primary way for casinos to follow your gameplay is via player's cards. They are your ticket to each Vegas freebie like food, attractions, upgrades and more. All you have to do is use it every time you gamble. It is a good idea to stick around for more action at fewer casinos, as the more you play, the better comps you will get. Basically, variety in this situation is not your friend. Well, you can get a free drink here and there without a player's club card, but the other comps are based on the action as it gets tracked on your card.
Interesting fact:
Sin City was rated one of the top 10 locations in the US as the foodie haven.
There is a resemblance between getting comps in Las Vegas via the player's card at the land-based gaming halls and the virtual casinos. The online platforms follow a similar pattern and implement loyalty schemes and VIP programs, which bring players extra benefits the more they play. You can check those offers at some of the best online casino sites in the USA.
Las Vegas Freebie – Earn Rate on Comps
There is more to the player's card than just using it when you gamble. To earn a rate on comps in Las Vegas, you can do other things as well. You can check which casinos offer promotional discounts and jump in. There are casinos like Caesar, which allow players to transfer their credits freely to other program members.
The next one is used by anyone who understands how rewards points are scored. We talk about the connection between wagers and points. It is quite simple – the more money you wager, the more points you earn. That is basically the promo policy of the top online gambling sites in the US. Besides that, visiting restaurants and sleeping at casino hotels can also help with those and each related Las Vegas freebies.
Las Vegas Comps – Make Your Hotel Stay an Upgraded Heaven
Players in Las Vegas often receive free and discounted room offers. Each is based explicitly on what you spend at properties within a particular program. Once you get your player's card and use it, the casino will send you free offers via email. That includes free slot play vouchers, free slot tournament tickets, trips, complimentary rooms, and more.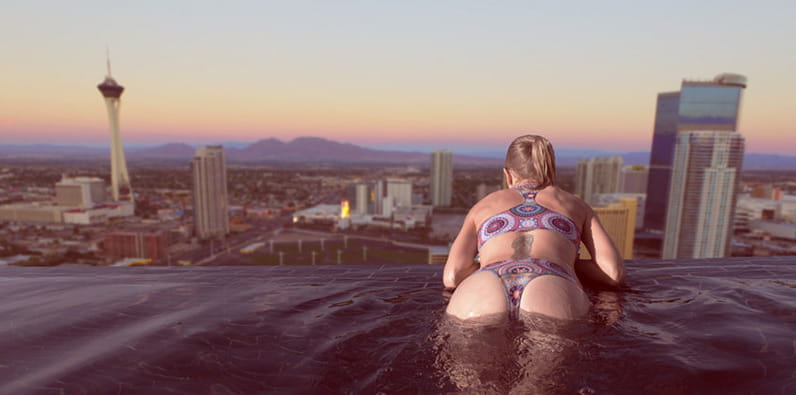 Once you have unlocked and used everything mentioned above, log into your program's booking website. You will see that the hotel prices are tailored specifically to you and your gaming habits. Each of the best hotels in Las Vegas alongside many others in town, models that policy individually. But with M life and Caesars, you can expect to book at a steep discount directly and will often receive free room night offers midweek and during slow times. Medium to high rollers rarely pay for hotel rooms in Sin City, as they get them like Las Vegas comps.
How to get a Comp Room in Las Vegas
When you are at one of the best places to gamble in the USA, you will also enjoy top-rated hotels and resorts. A complimentary hotel room is a typical Las Vegas freebie. Here is what you can do to come closer to getting comps in Las Vegas related to accommodation:
Get a player's card.
Use it at casino tables, slot machines.
Play longer and extend your chances of getting perks like a free room.
Play at a specific casino frequently and for more than two hours.
Try to make high first and high last bet.
Use promotional chips if available.
Pick smaller casinos and play on weekdays during the off-season.
You can always ask the host for a comp room and present your player's card.
Best Comps in Vegas
There are hundreds of things to see in Las Vegas, Nevada. Tourists visit not only for the casino thrill, but also for the exciting Vegas attractions and hidden cultural ventures including many interesting museums. A vast amount are related to casino complimentary tickets and passes. Others sit right there and require no player's club points. We have gathered a mix containing the best comps in Vegas related to the iconic Sin City locations that are worth your time.
| | |
| --- | --- |
| 👣 The Bellagio Fountain Show | Different each time and you can enjoy it countless times without getting bored. |
| ✨ The Mirage Volcano Show | The most remarkable show on the Vegas Strip |
| 🔝 The Wynn Atrium | Marvellous gardens with a gorgeous floral display. |
| ✔️ Welcome to Fabulous Las Vegas Sign | Often forgotten by visitors, this iconic landmark awaits your photo sessions. Make sure you get there early. |
| ☝️ Fremont Street Experience | The world's most giant screen, featuring over 12 million LED lights. |
| ⭐ Pinball Museum Hall of Fame | Features classic pinball games from the 1950s. There are also some of the most iconic arcade games in history. |
Tricks on How to Land a Better Casino Comp in Las Vegas
Being a high-roller is not the primary way to get Vegas freebies. Some tricks can get average players closer to scoring juicy comps while in Nevada as well. Casinos offer loads of free stuff, so why not lay hands on more of those? Check out our top tricks for landing better comps while in Las Vegas:
Trick 1: Look like spending more than you are – act on the appearances.
Trick 2: Make it look like you are playing longer than you are – pick crowded tables.
Trick 3: Use loads of bathroom breaks – you end up with fewer rounds.
Trick 4: Play with your partner – there are related rewards.
FAQs on Las Vegas Comps
This FAQ section contains often asked questions regarding how to lay hands on free stuff while in Las Vegas, Nevada. The answers are prompt and straight to the point. We know that there is plenty on the topic, but the information in this article covers the main aspects. Check out what our expert editors have gathered for you: