More than three years ago, Fintan "EasyWithAces" Hand became a fully-fledged member of PokerStars Team Online, joining the ranks of Ben "Spraggy" Spragg among others. He has enjoyed his fair share of online poker success since sporting the famous PokerStars spade, but a World Championship Of Online Poker (WCOOP) title still eludes him. That fact is something the popular Twitch streamer is going all out to change before the 2021 WCOOP concludes.
Follow all the latest from the WCOOP – LIVE!
The PokerNews live reporting team is on top of all things WCOOP. Don't miss a beat!
Hand's hands have been tied up recently taking care of some major events such as purchasing a new home with the love of his life, Hannah, and returning to his native land.
"Obviously, it is great to be back in Ireland," Fintan Hand told PokerNews. "I've been catching up with everyone, dropping in and having a cup of coffee with my dad and having chats with my mum in the evening. It's not the most exciting stuff in the world, but it's what I've been most excited about getting home for. And on top of that, I've also picked up golf which has been a great excuse to be out and catch up with friends. And in classic fashion, I have got completely into it and have been playing four or five times a week so hopefully, by next summer I'll be reasonably good."
Veldhuis Gunning for 2021 WCOOP Title and Elusive Six-Figure Score
Hand's popular stream is back up and running now that he's returned to Ireland, much to the delight of his 114,000 Twitch followers. PokerStars teammate Lex Veldhuis last week told PokerNews that he could not wait to stream again after the break he took. Was Hand the same? Was he eager to stream again?
"I always miss streaming when I'm not online so, of course, I was delighted to get back to the community," Hand said. "It always has that slight feeling of being in a hamster wheel where if you stop streaming, the momentum disappears. So, you stream, you build it up, you've got lots of people watching, there's lots of excitement, and then you stop, you fall off the wheel, and you've got to build it up again. But I'm enjoying it, I'm back into it. I've got the Irish IP run good, which is great!"
Ahh, the famous luck of the Irish! How much run good does being Irish give a player?
It will be nice to potentially become the first-ever World Champion in the family in what has been my family home for many many years.
"I'm not a very superstitious person but my mum has always said that this house has been very lucky for me. It wasn't the plan to be streaming from my mum's house because myself and Hannah have got a place, but with slight delays, it means that I'm going to be streaming in what would have been my playroom when I was kid, so there's a lot of good memories here and hopefully I'm going to make some new ones. It will be nice to potentially become the first-ever World Champion in the family in what has been my family home for many many years."
Obviously, Hand is going all out out for WCOOP glory in 2021 and believes his fellow Team PokerStars family will be doing the same. After all, WCOOPs do not come around very often, so no player is going to have that many shots at a WCOOP title during their careers.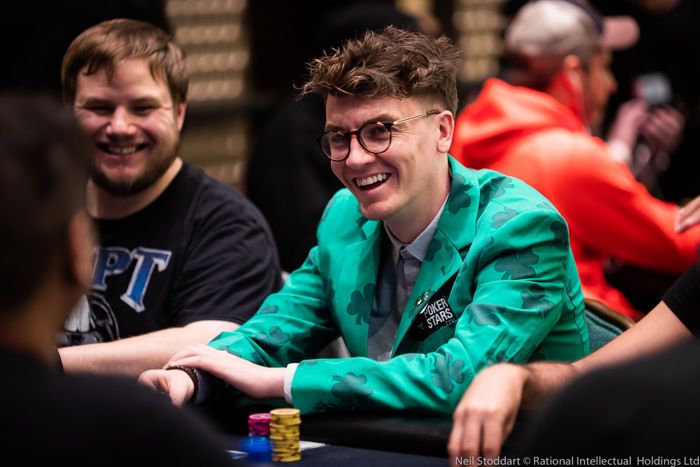 Hand is no stranger to success in major PokerStars festivals having won a $1,050 SCOOP event in 2020 and a $5,200 PKO event at the 2021 SCOOP. He desperately wants a WCOOP title, if only to stop his manager from poking fun at him.
"The main motivation behind trying to win a WCOOP title is because our manager, Mr Fergal Brophy, a well-known member of the community, likes to rub it in my face that Benjamin Spragg has won a World Championship title, which was a $5 tournament and my $1K SCOOP and my $5K SCOOP win don't equate to one $5 win, so that's my main motivation. I need to have one of those sexy looking trophies up on my mantlepiece to go along with the two SCOOP titles and trophies that we now have."
Check out Fintan Hand's $5K PKO Scoop victory
Competing at the highest level for an entire poker festival takes dedication and preparation. Every player prepares for such things differently, but Hand doesn't seem to be changing things up for WCOOP.
"I'm not doing too much different," Hand continued. "I have been looking after myself for the past couple of weeks, I've been studying hard, I have been working with BBZ aka Jordan Drummond on a 1-1 basis and I've been watching the seminars. I also use DTO every day at the beginning of the stream, so that I can drill hands. But when I go into WCOOP I try to not study too much. I'm kind of like the way I was in school, I would never cram for tests. If I don't know it now, I don't think I'm going to know it, so I won't be going out with friends, I'm going to be in grind mode for the month and hope that it goes well."
Before we let Hand get back to the grind, we asked him which poker streamer he believes stands a great chance of shining brightly during the 2021 WCOOP. His answer was not what we expected.
Follow The Biggest 2021 WCOOP Events Here at PokerNews
"My underdog/outside person to win a trophy is none of the actual Team Pros, I'm going to go with True Geordie," he predicts. "That man has been playing poker for I'm going to say less than a year, maybe around a year, at least on the streams and associated with PokerStars, but he seems to love it. He plays fearlessly, he goes for it, and it would be amazing if he could get more eyes on poker by making it to a final table or even better by winning a trophy."
See if Hand can finally get his hands on a WCOOP title by following the PokerNews coverage from the 2021 PokerStars WCOOP. In addition to live reporting the biggest events, we publish a daily recap highlighting all that day's champions, plus the events that are currently in play.