PokerNews is known throughout the world for our industry-leading live updates for both live and online events. In fact, right now we're offering various updates right here.
Over the years, we've captured memorable hands, many of which have become a part of poker history. In this new column, we will bring you some of the biggest hands of the week as reported in the PokerNews Live Updates.
Remember, if you're playing an event PokerNews is covering, you can get in the updates via the MyStack App. You can download the app for iPhone or Android now to get started. Then, create a new PokerNews account or update your current one to start updating your status immediately. Your followers can see all the live action that you're involved in.
Click here to download the My Stack app for iPhone, or click here to download the My Stack app for Android.
Here's a look at some highlights of big and interesting hands caught in the PokerNews live updates.
Steve Wilkie Suffers Yet Another Bad Beat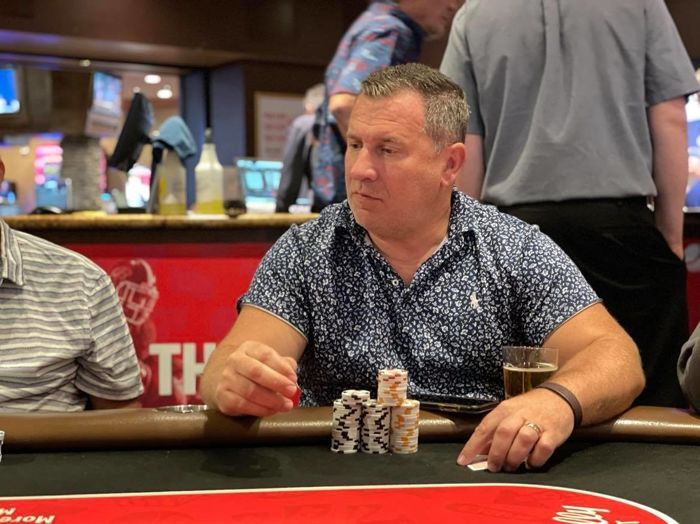 At the beginning of July, Steve Wilkie suffered a bad beat to bubble the Wynn $1,650 Myster Bounty event. This weekend, Wilkie is in Colorado for the MSPT $360 Regional Event at Bally's Black Hawk, but his bad luck continued on Day 1c of the tournament.
The hand took place in Level 5 (300/500/500) when action saw a single-raised pot go multiple ways to a flop of
. A player in early position bet 1,600 and received a call from MSPT Grand Falls champ Chad Bjorkman in the hijack. Wilkie then raised to 10,000 in the cutoff and received a call only from Bjorkman.
The turn came
and Bjorkman checked. Wilkie announced he was all in for Bjorkman's remaining stack of around 10,000 more, and Bjorkman called.
Chad Bjorkman:

Steve Wilkie:
Bjorkman's tens were left with seven outs to improve and double, and one of those seven came on the river
.
"YES!" yelled Bjorkman after completing the straight, standing up with a violent fist pump that sent his chair flying onto its back behind him. The pot was then sent his way and he collected his chips.
Click here for MSPT Black Hawk Live updates!
Dimitrov Takes Lead with Quads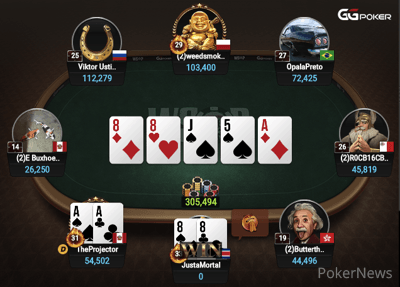 In the 2021 GGPoker WSOP Online Bracelet series it was Event #2: $1,111 Caesars Cares Charity Event in Level 15 (1,250/2,500/300) when Aleks "JustaMortal" Dimitrov opened for 4,000 from the cutoff. Diego "TheProjector" Ventura then three-bet to 12,580 and Dimitrov called.
Dimitrov check-raised the
flop from 9,953 to 30,000 and Ventura called. Ventura then called a bet of 27,048 on the turn before Dimitrov checked the
river.
Ventura jammed for 135,121 and Dimitrov called off for 80,619. Ventura had a hand that wins most of the time with
for a full house but Dimitrov had the goods as he flopped quads with
to win the biggest pot of the tournament up to that point.
Fox Eliminated with a Full House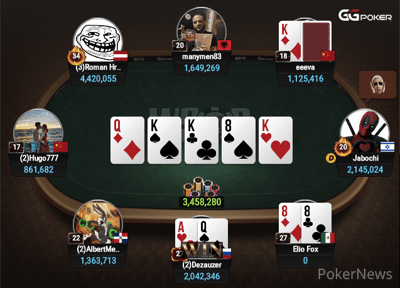 In the same tournament, it was Level 34 (40,000/80,000/10,000) when Roman Hrabec opened for 160,000 from middle position. Elio Fox three-bet jammed for 1,569,140 from the small blind before Ilya "Dezauzer" Yakunin four-bet shoved for 3,651,486 from the big blind. Hrabec got out of the way and the players showed their hands.
Elio Fox:

Ilya "Dezauzer" Yakunin:
Yakunin took a big lead in the flip after connecting his queen on the
flop. The
turn gave Fox a full house but he managed to get eliminated in 14th place anyway after the
river gave Yakunin a better full house.
Vieira Rivers Steel Wheel Against Nut Flush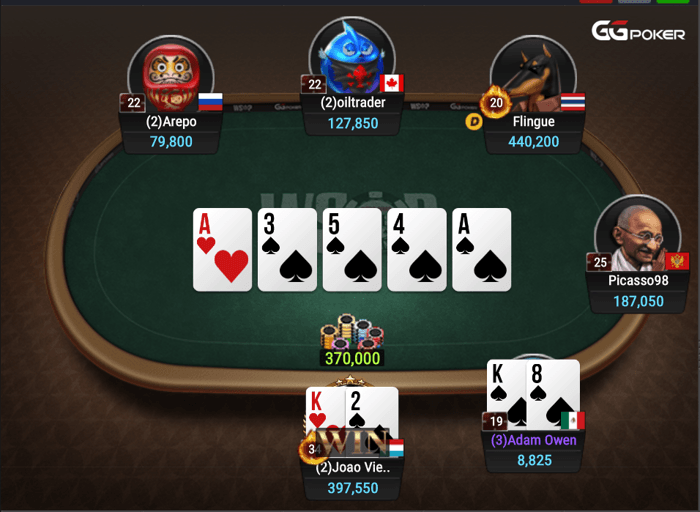 In the 2021 GGPoker WSOP Event #3: $2,500 Limit Hold'em Championship, it was Level 20 (20,000/40,000) when Joao Vieira raised under the gun to 40,000 and Adam Owen called from the big blind. The flop came
and Owen check-called for 20,000. Oven check-raised from 40,000 to 80,000 on the
turn, and Vieira called to the
river. Owen check-called for 40,000.
Joao Vieira:

Adam Owen:
Board:
Owen rivered the big flush, but Vieira rivered the steel wheel to take down a huge pot.
Click here for 2021 GGPoker WSOP Updates!
Lady Love on the River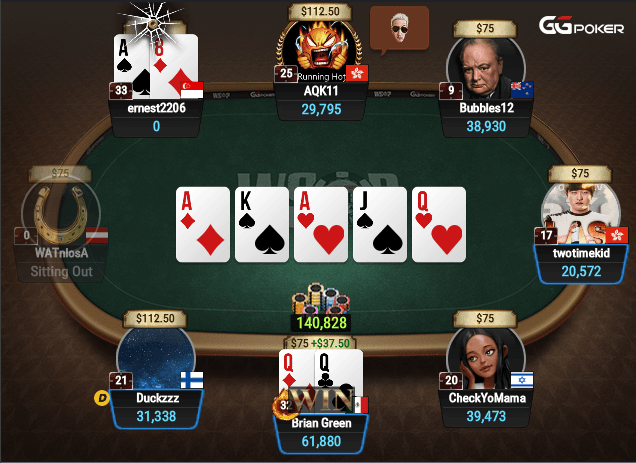 In the 2021 GGPoker WSOP Event #5: $315 Bounty NLH Deepstack it was Level 6 (200/400/50) when Brian Green raised to 1,200 from the cutoff and "ernest2206" three-bet shoved for 70,039 from the small blind. The big blind snap-folded and Green quickly made the call with the bigger stack.
"ernest2206":

Brian Green:
The board ran out
for "ernest2206" to flop trips but for Green to river a full house to score the big pot and bounty to get to the top of the chip counts.