June 2021:  The AGEM Index continued its upward trend since October 2020 and reached a new high during the latest period. The index increased by 25.50 points to 1,005.20 points in June 2021, a 2.6 percent gain from May 2021. One year ago, the AGEM Index measured at 407.31 points. From that reporting period, the index has grown 597.89 points (+146.8 percent).
In the last month, seven of the 13 AGEM Index companies reported increases in stock price. The AGEM Index's June 2021 growth was due in large part to a 11.3 percent increase in the stock price of Inspired Entertainment, Inc. (Nasdaq: INSE). The stock was responsible for 13.8 points of the AGEM Index's monthly growth. Another significant index contributor was Scientific Games Corporation (Nasdaq: SGMS), which added 9.6 points due to a 6.8 percent rise in its stock price. Most of the stocks in the AGEM Index recorded triple-digit growth rates over the past year, with Scientific Games Corporation leading the way with a 400.9 percent improvement for its stock price since June 2020.
The major stock indices reported mixed performances. The NASDAQ and the S&P 500 grew by 5.5 percent and 2.2 percent, respectively. Meanwhile, the Dow Jones Industrial Average experienced a 0.1 percent decline.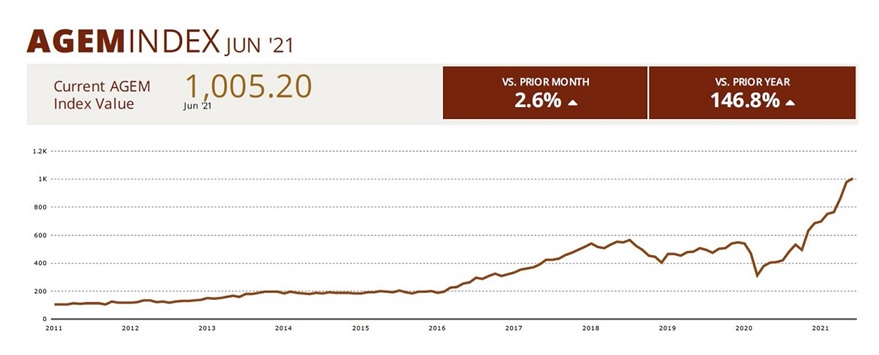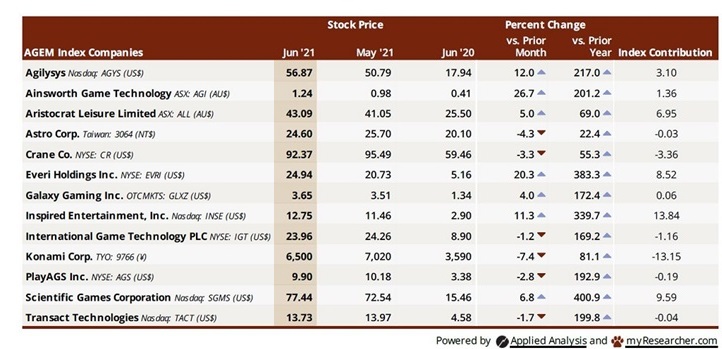 The AGEM Index
The Association of Gaming Equipment Manufacturers (AGEM) produces the monthly AGEM Index that comprises 13 global gaming suppliers throughout the world. A total of nine suppliers are based in the United States and are listed on the NYSE, Nasdaq or OTC market, while two trade on the Australian exchange, one on the Tokyo exchange, and another trades on the Taiwan OTC exchange. The index is computed based on the month-end stock price (adjusted for dividends and splits) of each company and weighted based on approximation of market capitalization. Market capitalizations for manufacturers trading on foreign exchanges have been converted to US dollar-equivalents as of month-end for comparability purposes. The AGEM Index is based on a 100-point value as of January 2005. Company stock prices and AGEM Index contributions may be revised as necessary due to stock splits, reverse stock splits, mergers, acquisitions and other business activities.
 
About AGEM
AGEM is an international trade association representing manufacturers of electronic gaming devices, systems, lotteries, and components for the gaming industry. The Association works to further the interests of gaming equipment manufacturers throughout the world. Through political action, tradeshow partnerships, information dissemination and good corporate citizenship, the members of AGEM work together to create benefits for every company within the organization. Together, AGEM and its member organizations have assisted regulatory commissions and participated in the legislative process to solve problems and create a positive business environment.