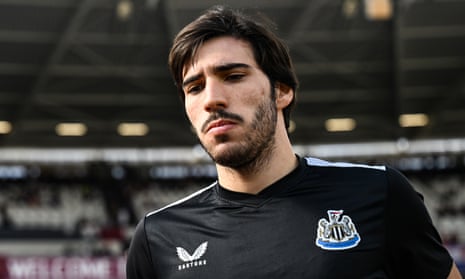 Newcastle stunned by reports Tonali has admitted to betting on Milan games
Midfielder facing long ban if he has placed bets on matches
Tonali's agent says player has a gambling addiction
Newcastle executives have been stunned by widespread reports in Italy that Sandro Tonali has admitted to placing bets on Milan matches during his time as a player at the Serie A club.
Tonali, who arrived at Newcastle in a £55m transfer from San Siro this summer, faces a lengthy ban from football if he placed such bets, potentially leaving a significant hole in Eddie Howe's squad while also raising awkward questions about football's vexed relationship with gambling.
During a hearing at the city prosecutor's office in Turin on Tuesday the 23-year-old Italy midfielder is reported to have confessed that he bet on Milan to win a series of matches, some of which he played in.
Under Italian Football Association and Fifa regulations, admissions of that nature leave players facing suspensions of up to three years. Given that Tonali – who is understood to have received considerable support and sympathy from Howe – is cooperating with civil and football authorities and has explained he is seeking help for what his agent terms a "gambling addiction", the former Italy Under-21 captain is likely to incur a shorter, potentially year-long, ban.
On Tuesday Nicolò Fagioli, the Juventus midfielder, was handed a 12-month suspension by the Italian FA, with five months suspended, after his admission of a broadly comparable breach of the rules. Fagioli was also fined almost £11,000 and agreed to a minimum of six month's therapy to address his gambling addiction.
Tonali's agent, Guiseppe Riso, has said his client has a gambling problem and faces "the biggest challenge" of a hitherto gilded career. "Sandro is shocked," said Riso. "He knows he has made a mistake. I hope this experience will help save his life and also the life of others with the same addictions."
The first public hint that something was amiss arrived when Tonali, along with the Aston Villa loanee winger Nicolò Zaniolo, was removed from the Italy men's training camp last Thursday after a police raid – by officers from Turin's flying squad – at Coverciano, the team's Florence training centre, relating to allegations of players betting online via unauthorised websites.
He and Zaniolo, on loan from Galatasaray, had their mobile phones and tablets seized as part of a long-running Italian investigation into illegal betting inside football thought to involve at least 12 players.
Newcastle have declined to comment on an issue set to be addressed by Howe at his press conference on Friday but they are expected to endorse the supportive stance articulated by Gabriele Gravina, the Italian FA president.
"As a human being I feel for the two players [Tonali and Zaniolo]," said Gravina on Tuesday. "They are like children to me. We should not condemn these young boys. Gambling addiction is a social plague. Whoever made a mistake will be punished and helped in a healing and recovery project. We have to make sure these children can come back. We will not abandon these boys."
Gianluca Tognozzi, a lawyer representing Zaniolo, told La Gazzetta dello Sport on Sunday that his client had not placed any bets. "It's possible that he played a card game like poker or blackjack on an illegal platform, without realising that they were," said Tognozzi. "But we will clear all this up."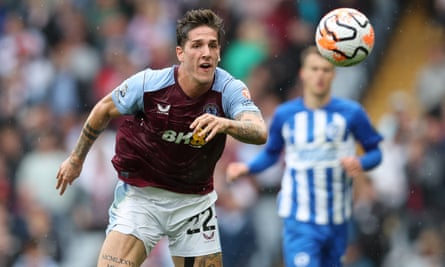 Were Newcastle to fail to stand by Tonali they would be open to accusations of hypocrisy. The club has commercial partnerships with three online betting companies. "Newcastle United and Aston Villa should stand in solidarity with their players and review their relationship with gambling firms," said The Big Step, a gambling addiction charity, said on Wednesday.
The Premier League has banned clubs from advertising the names of betting companies on the front of shirts from the end of the 2025-26 season but advertising will still be permitted inside stadiums.
Serie A clubs have been banned from betting sponsorships since an Italian government increasingly concerned about gambling tightened national laws in 2019. A similar stance was adopted in Spain's La Liga two years ago.
The Brentford striker Ivan Toney was suspended for eight months in May after breaches of the English FA's betting rules and diagnosed with a gambling addiction. He is set to return to Brentford's attack in January when he will be expected to wear a shirt advertising a gambling sponsor.
Explore more on these topics
Newcastle United
Gambling
news