The Mid-States Poker Tour (MSPT) wrapped up another successful stop with the Ballys Black Hawk $1,110 Main Event drawing 651 entries over three starting flights to generate a total prize pool of $631,470. Eighty-three of those players returned for Sunday's Day 2 to play until the end, and ultimately bringing about a three-way chop between Bobby Garcia, Tyler Potts, and Cory Smith that landed all three players $89,038. Garcia was the one holding the chip lead by just one big blind over Potts when all was said and done, earning him the accompanying trophy.
Garcia entered the day with lifetime earnings of $99,573, all of which had been earned in Black Hawk, Colorado over his career. He nearly doubled that amount after entering the day with a below-average stack of 143,000 that he quickly built up to seven figures, becoming one of the chip leaders and staying there throughout most of the tournament.
Potts and Smith also spent most of Day 2 with above-average stacks, with Potts taking home his largest career score as well while Smith's $89K winds up being the second-most of his life after a runner-up finish at WSOP Circuit Tunica in January 2017.
MSPT Black Hawk $1,110 Main Event Final Table Results
| Position | Player | Prize |
| --- | --- | --- |
| 1 | Bobby Garcia | $89,038* |
| 2 | Tyler Potts | $89,038* |
| 3 | Cory Smith | $89,038* |
| 4 | Norm Tanner | $43,571 |
| 5 | Dapo Ajayi | $32,836 |
| 6 | Jon Glendinning | $24,672 |
| 7 | Michael Jagroo | $18,944 |
| 8 | Adam Wilbur | $15,155 |
| 9 | Yohannes Ambaye | $11,366 |
*Denotes three-way deal.
Click here to see who won the MSPT $360 Regional Event
Day 2 Recap
When Day 2 began, 11 players still needed to find their way to the rail before the top 72 made it into the money. Ten of those players fell within the first 45 minutes of play to bring the tournament to the bubble, where more than five doubles and two triples ensued to bring about a 40-minute bubble that finally burst when Alex Wheeler found himself down to one big blind and was eliminated by Potts and David Blankenship (41st – $2,463) when the two each hit a straight to chop.
One-third of the field then dropped in the blink of an eye, including players such as Kane Lai (71st – $2,084) and Krzysztof Stybaniewicz (60th -$2,210), with the likes of Kevin Eyster (50th – $2,336), Eli Loewenthal (46th – $2,336), Max Young (42nd – $2,463), and John Sun (31st – $2,778) dropping over the two hours that followed to bring the field down to 27.
Garcia was the chip leader when the three-table redraw occurred, with March's MSPT Riverside Champion Daniel Sepiol (26th – $3,663) falling shortly thereafter. More players continued to fall from there, including Alex Winter (20th – $5,431), Craig Varnell (19th – $5,431), and Kyna England (15th – $7,578).
Play eventually got short-handed, as did Garcia's stack while Clayton Wilson (10th – $9,472) began to pull away before doubling Garcia and continuing to go south from there before eventually being eliminated on the final table bubble in 10th when his ace-ten could not hold versus the ace-nine of Norm Tanner.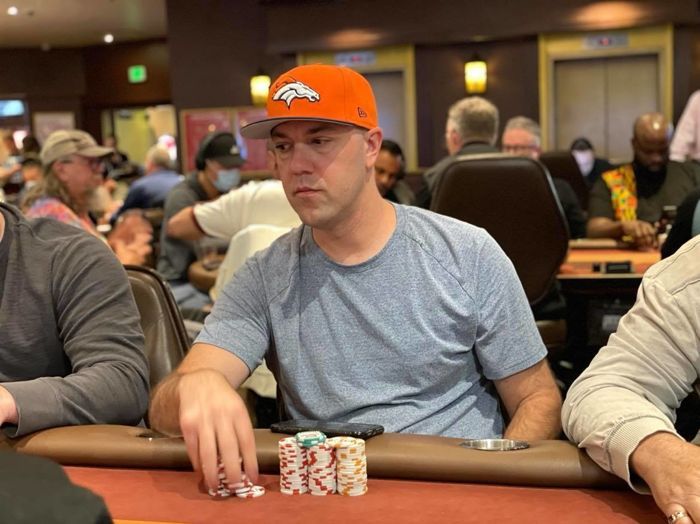 The Final Table
Stacks were largely concentrated when the final table began, with Garcia holding a slight chip lead over Jon Glendinning. Yohannes Ambaye and Michael Jagroo entered as the shortest stacks, though both had more than 20 big blinds and were well within reach of the chip lead should either find a double. Instead, Ambaye bowed out first after losing with ace-king to Gacia's ace-nine.
Adam Wilbur then busted in eighth, re-jamming with pocket fives and running into the nines of Potts, who had a covering stack by less than a one-big-blind difference. Then, Jagroo ran ace-ten into Garcia's aces to bust in seventh, marking three eliminations within the first three levels of the final table and sending six to what wound up to be the final break of the night.
Garcia caught fire out of that break, finding sevens hold versus sixes to knock out Glendinning upon returning. A hand later, recent WPT Choctaw champ Dapo Ajayi shoved king-queen into Garcia's aces blind-on-blind; and he followed it up the next time he was in the big blind by picking up jacks. Tanner, who was in the cutoff, shoved with king-ten and Garcia's jacks remained best to take the field from six to three in just over 10 minutes.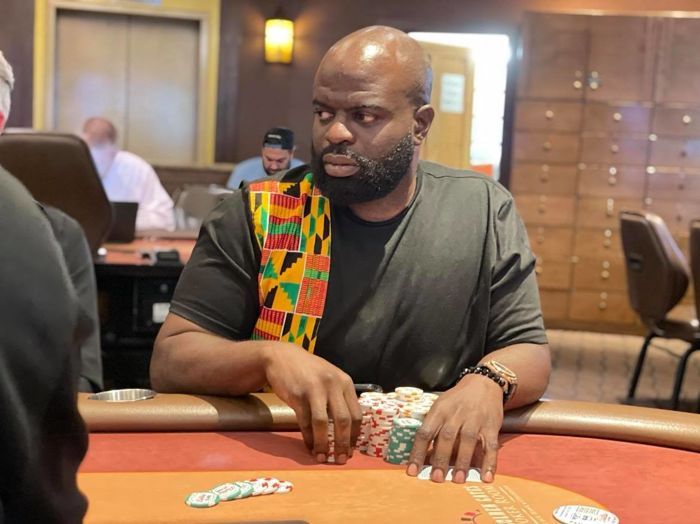 One orbit later, Garcia had Smith at risk in another blind-on-blind situation when Garcia picked up two nines, but Smith woke up with aces and secured the double to avoid the tournament entering heads-up play within a 15-minute period. Smith found himself second in chips, but quickly ceded a double to Potts to fall into third. Potts then chipped up a bit before doubling Smith back when his ace-eight lost to Smith's king-ten, and 10 minutes later chips had fluctuated to bring stacks close to even.
When play had been six-handed, talk of a chop was brought up and quickly shot down by Garcia. However, he reassessed that situation when just he, Potts, and Smith remained, and the three wound up agreeing to an even chop for $89,038 apiece. Final stacks showed Smith with 4.865 million, less than 10 big blinds behind the 5.65 million of Potts with Garcia's 5.775 million just edging him out to officially take the first-place trophy.
More MSPT Black Hawk Big Hands Here!
The next MSPT tournament will take place this weekend with the MSPT Grand Falls $1,100 Main Event just outside Sioux Falls, South Dakota. PokerNews will be on-site to offer live updates, so be sure to join us then. Click here for more information on that event.