It was expected to be wild from start to finish, and the final day of the Bar Poker Open Florida World Championship more than lived up to those expectations, crowning Ian Auvil of the No-Limit Pub Poker Tour its newest champion.
After a thrilling roller coaster of a final table, Auvil defeated Ronald Kaepernick heads-up to take home the title and the $50,000 first prize.
That purse was the very sizeable lion's share of the $122,688 prize pool, built from a field of 426 entries in the latest successful iteration of the BPO here at the Palm Beach Kennel Club.
The win is by far the largest of Auvil's career. He was at a loss for words afterward, but the recreational player from Stuart, Florida was sure to thank his boisterous and supportive rail.
Auvil certainly embodied the spirit of the Bar Poker Tour, as he was the most vibrant and exuberant character at the final table. Auvil had an absolute blast from start to finish, almost ignoring the pressure of playing for a tournament score the likes of which he'd never before been so close to.
Final Table Results
| Place | Player | Hometown | Poker Club | Prize |
| --- | --- | --- | --- | --- |
| 1 | Ian Auvil | Stuart, FL | No-Limit Pub Poker Tour | $50,000 |
| 2 | Ronald Kaepernick | Stuart, FL | No-Limit Pub Poker Tour | $22,500 |
| 3 | Gregg Bloom | Delray Beach, FL | No-Limit Pub Poker Tour | $10,000 |
| 4 | Paul Chamberlain | Norwood, MA | Eastern Poker Tour | $5,200 |
| 5 | Miguel Medrano | New York City, NY | New York Free Poker | $3,438 |
| 6 | John Purdy | North Attleboro, MA | Eastern Poker Tour | $2,500 |
| 7 | David Phillips | Parker, CO | Over the Top Poker | $2,000 |
| 8 | Chris Davis | Los Angeles, CA | Cowboy Kings Poker | $1,500 |
| 9 | Bogdan Zavu | Framingham, MA | Eastern Poker Tour | $1,250 |
Day 2 Action
Monday was expected to be a day of lightning-quick eliminations with the chip leader having less than 40 big blinds once the level changed just three minutes into the day and it was certainly that.
Just 30 minutes into the day, the 43 returning players had been trimmed to 27, and by the first break just over two hours in, the field was down to 17.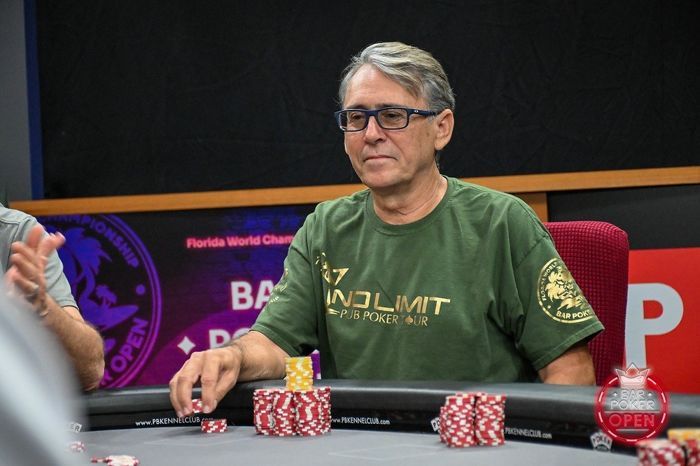 Among the early casualties shockingly was start-of-day chip leader [PLAYER="billy-hayes"]Billy Hayes[/PLAYER]. In a blind vs blind clash, Hayes three-bet jammed bottom pair into John Purdy's middle pair and flush draw in the biggest pot of the tournament at that point.
Purdy made a flush to take the chip lead, and Hayes was left on fumes and eliminated shortly after.
The frantic pace of eliminations continued once down to two tables, and after less than four total hours of play, the final table of nine had been reached.
Players then broke for just over three hours to do some interviews, take a breath, and regroup before returning in the early evening to finish things on the BPO and Palm Beach Kennel Club livestream.
Once play resumed, the elimination of Bogdan Zavu in ninth place also saw a massive shift in the fortunes of the two chip leaders at that point, leading to the elimination of Chris Davis in eighth place.
Davis, who held the lead opted to slow play kings in the big blind after Zavu moved all in. He then jammed two times the size of the pot on a ten-high flop with Auvil behind him. The eventual champion had flopped a set of nines and happily called. Auvil held to score a massive double-up, while Davis was left short and eliminated shortly after.
David Phillips was the next to fall in seventh, followed by Purdy in sixth before the eliminations slowed considerably.
It wasn't until Auvil's kings held against Miguel Medrano's ace-jack that another player was truly short-stacked. Medrano was eliminated shortly after in fifth place.
Auvil was down to three big blinds four-handed but managed to spin his stack back into contention to the point that after Paul Chamberlain's elimination in fourth place, he was able to double-up through his eventual heads-up opponent, Kaepernick, to regain the chip lead. It would be one he wouldn't relinquish.
Auvil then eliminated Gregg Bloom in third place after flopping the latest of several sets at the final table and holding on versus Bloom's open-ended straight draw.
Heads-up play then lasted just two hands before Auvil finished the job by making Kaepernick his final victim to claim the title and that $50,000 first prize.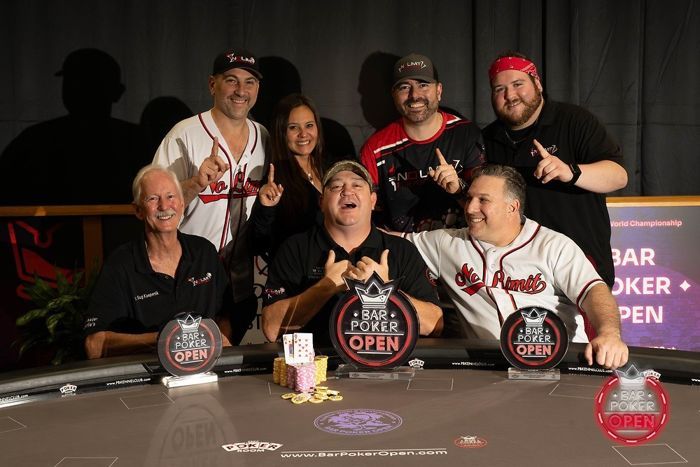 This concludes our coverage of the Bar Poker Open Florida World Championship. Stay with PokerNews for continuing coverage of tournament action around the world.