Is it time for the poker world to start calling Phil Hellmuth the best poker player of all time? Fresh off of winning his record breaking 16th World Series of Poker gold bracelet, all eyes are now firmly on the "Poker Brat". Hellmuth overcame Jake Schwartz in heads-up play break his own WSOP record whilst also picking up his first WSOP title in the deuce-to-seven Lowball format.
Fourth times the charm! @phil_hellmuth has had a smashing success at the 2021 #WSOP so far with 4 final tables and… https://t.co/nOP4HHZzDP

— PokerNews (@PokerNews)
Hellmuth's latest triumph caps off an excellent start to the 2021 World Series of Poker where he has already made four final tables. Combine this with his heads-up whitewashes over Antonio Esfandiari and Daniel Negreanu on PokerGO's High Stakes Duel, does that make Phil Hellmuth at the very least the best poker player in the world right now?
Learn To Play With 1 Million Free Chips On The WSOP App
Check out the rules and basic strategy to all the popular poker formats
Phil Hellmuth's 2021 World Series of Poker (WSOP) Results So Far
| Date | Event | Place | Prize |
| --- | --- | --- | --- |
| October 15, 2021 | Event #31: $1,500 No Limit 2-7 Lowball | 1st | $84,951 |
| October 9, 2021 | Event #19: $10,000 Seven Card Stud Championship | 4th | $54,730 |
| October 4, 2021 | Event #9: $10,000 Omaha Hi/Lo 8 or Better Championship | 5th | $80,894 |
| October 3, 2021 | Event #7: $1,500 Dealer's Choice – 6 Handed | 18th | $4,429 |
| September 30, 2021 | Event #2: $25,000 H.O.R.S.E. | 6th | $95,329 |
One of the criticism Hellmuth always faced about being the best poker player of all time was that his game was limited to just excelling in Texas Hold'em games, after all before his latest win, 13 of his WSOP victories have come in that format with the other two coming in Razz. This argument has surely been dispelled with his current run, Hellmuth has shown he is a world class player in several poker variants.
"There is a lot of skill in these tournaments. It's harder to win the mixed games. If I can win four of five mixed bracelets, I think it will say a lot about my legacy. I think I am playing a bunch of games at a world-class level now." – Phil Hellmuth
It's clear after his most recent win, Hellmuth believes he has plenty more in the tank, and its been no secret he wants to have a tally of bracelets that reaches the mid-twenties.
If he achieves that, there's little room for dispute that he would be the greatest poker player of all time. If you take into account all that Hellmuth has achieved in the last year, if someone were to google 'Who is the best poker player in the world right now?' it shouldn't come as a shock if the first result is, indeed, Phil Hellmuth.
Of course, there is always room for debate. PokerNews took a deep dive into the reasons for and against why Hellmuth should or shouldn't be considered the best poker player of all time.
2021 WSOP Live Reporting Hub
Follow all the live-action as it happens from the 2021 World Series of Poker in Las Vegas!
The King of the World Series of Poker
The first point Hellmuth would make to show he's the best poker player of all time would be his unmatched results at the WSOP. Albeit occasionally bordering on meme-territory, it's an indisputable fact when it comes to gold bracelet hunting, no one can do it like Phil can. Now, with a record 16 WSOP wins to his name across five decades, the Palo Alto resident's Hendon Mob all-time money results speak for themselves with over $25 million in lifetime winnings.
It wouldn't be wrong to think — as in other sports and disciplines — that the most decorated player of all time would command some respect. Yet, whenever Hellmuth's bracelet wins are brought into the discussion, his critics have a plethora of caveats already laid out.
A common retort often revolves around the idea that 'It was easier back then,' and the like. Whilst this counterpoint may have some credibility, the same point would not be made when comparing the achievements of Novak Djokovic or Roger Federer to a Rod Laver, for example – so why does it apply to Hellmuth?
Yes, there are more opportunities than ever before to win a gold bracelet and as such, the achievement might be a little downplayed nowadays. Even so, there are several elite poker players who have yet to get WSOP-encrusted bling around their wrist. Names on that list include poker titans like Dan Smith and Stephen O'Dwyer. If it's that easy, why isn't everyone doing it?
All Phil Hellmuth World Series of Poker (WSOP) Bracelet Wins
| Year | Phil Hellmuth's WSOP Bracelet Event Wins | Earnings |
| --- | --- | --- |
| 1989 | Event #14: $10,000 No-Limit Hold'em MAIN EVENT – World Championship | $755,000 |
| 1992 | Event #8: $5,000 Limit Hold'em | $188,000 |
| 1993 | Event #7: $2,500 No-Limit Hold'em | $173,000 |
| 1993 | Event #8: $1,500 No-Limit Hold'em | $161,400 |
| 1993 | Event #9: $5,000 Limit Hold'em | $138,000 |
| 1997 | Event #15: $3,000 Pot-Limit Hold'em | $204,000 |
| 2001 | Event #5: $2,000 No-Limit Hold'em | $316,550 |
| 2003 | Event #32: $3,000 No-Limit Hold'em | $410,860 |
| 2003 | Event #12: $2,500 Limit Hold'em | $171,400 |
| 2006 | Event #34: $1,000 No-Limit Hold'em (Rebuy) | $631,863 |
| 2007 | Event #15: $1,500 No-Limit Hold'em | $637,254 |
| 2012 | Event #18: $2,500 Razz | $182,793 |
| 2012 | Event #7: €10,540 No-Limit Hold'em Main Event | €1,022,376 |
| 2015 | Event #17: $10,000 Razz Championship | $271,105 |
| 2018 | Event #71: $5,000 No-Limit Hold'em (30-minute levels) | $485,082 |
| 2021 | Event #31: $1,500 No-Limit 2-7 Lowball Draw | $84,851 |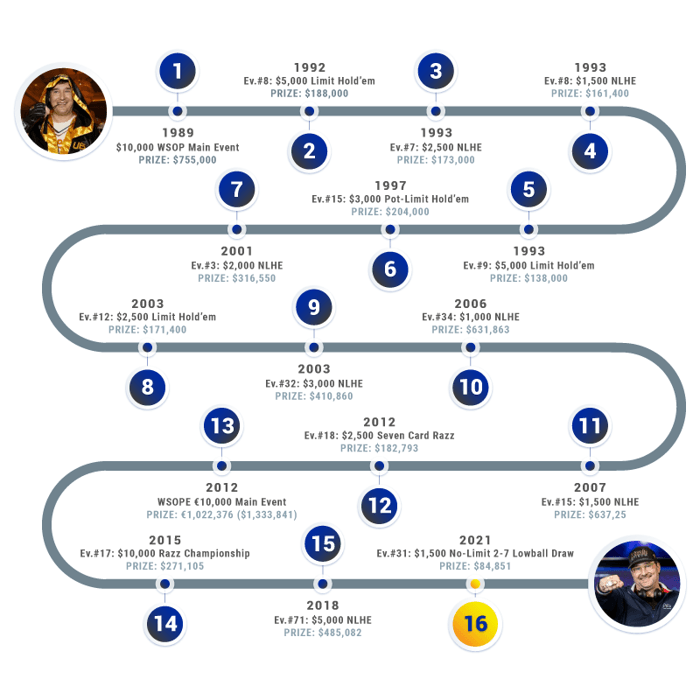 Relive Hellmuth's 15th bracelet win back in 2018
Hellmuth's Career Longevity
A further point, which regularly is skirted over, is the longevity of Hellmuth's career at the top. As mentioned, he sits alone as the only player to have bracelet wins in the 80s, 90s, 00s, 10s and now 20's.
One of my fav PH videos, ever! Created by @Joeingram1 and, of course, @Nike and Kap…From 2018 Poker After Dark, 1… https://t.co/zYGN8k25ms

— phil_hellmuth (@phil_hellmuth)
Traditionally, one cannot be considered the best player of all time in their area of expertise without a long, illustrious career in that sphere. Hellmuth's longevity at the top places him in the same rarefied air as legends like Doyle Brunson and Erik Seidel, esteemed company to be in to say the least.
Poker Ambassador and Entertainment Value
One factor that should be considered when discussing the best poker player of all time is one's ability to grow the game, a factor that's considered for those wishing to enter the WSOP Poker Hall of Fame, of which Hellmuth was inducted back in 2007.
So, it's worth pointing out that Hellmuth is worth his weight in gold (bracelets) in "entertainment value," which has no doubt attracted many a man and woman to the poker table. When poker was more prevalent on television, there was strong chance Hellmuth would be featured. With appearances on beloved shows like High Stakes Poker, Poker After Dark, The Big Game, and, most recently, High Stakes Duel, the man was and is a box-office hit.
Hellmuth's appearances on these shows have made him one of the most recognisable figures in poker, and he is a point of reference for even the most novice or lapsed of poker players. Hellmuth's collisions with the likes of Tony G and the late Dave 'Devilfish' Ulliott are iconic, with many poker players being able to quote verbatim some of his top televised poker moments.
However, following one of his patented blow-up's in the $10K Stud Championship, does the "Poker Brat" persona belong in 2021?
The best in their field are usually seen to hold themselves to the highest standards, both in performance and the way they carry themselves. Of course, there are exceptions to the rule, but composure at the poker table when things go bad is a trait the best poker player ever must have. Hellmuth has shown us time and time again that he's much better at dodging bullets than keeping his emotions in check.
Criticism Amongst His Peers
For Phil Hellmuth to truly take the crown of the best poker player of all time, it would not be out of line to suggest that one of the criteria needed would be to have universal respect amongst his peers on a professional level. Hellmuth has voiced his frustrations on feeling disrespected on numerous occasions, much of which stems from his unorthodox style of play and his unwavering self-belief.
That said, the way Hellmuth plays may be changing to the more widely-accepted GTO strategy, as pointed out by well-respected poker pro and coach Jonathan Little.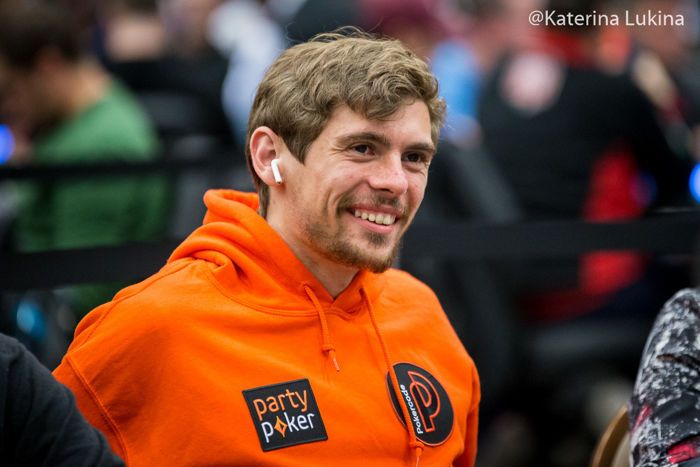 Fedor Holz, a staple among the top 10 players on the Hendon Mob all-time money list, is one of the most respected names in poker, and has previously chimed in on the debate on Hellmuth's poker ability. His criticisms centre on the fact that Hellmuth, in Holz' opinion, cannot cut it on the super high-roller circuit, a viewpoint that's shared by some of Holz' peers.
Everyone has heard the saying that "to be the best, you must beat the best." Whilst this is true in any competitive sport or game, poker is truly unique in the sense that at its core, it's about making money rather than winning titles and accolades. The best poker player of all time would recognise where they have the biggest edge and would exploit it, something Hellmuth has done his entire career.
However, if we are disregarding titles in the super high-roller circuit when it comes to being classed as the best, then it could be easily argued that Hellmuth's WSOP wins mean nothing in this debate as well.
Phil Hellmuth Fires Back at Those Who Disrespect His Game
Lack of Online Poker Success
When the first online real money poker hand was dealt all the way back in 1998, Hellmuth was already a major player in the live poker scene. However, this success in brick and mortar casinos never really translated onto the virtual felt, despite the occasional deep run here and there.
If 100 poker players were asked to say the first thing that came to their mind when they hear the name Phil Hellmuth, it is extremely unlikely that any of the sample group would respond with 'online poker crusher.'
Online poker is such a crucial part of the game, with much of the poker community thinking that the elite online players are the cream of the crop when it comes to poker. Does Hellmuth fit into that category? No, and that's something he'd probably agree with through gritted teeth.
To be the best, surely one must excel in both live poker and online poker. Even so, it could be argued that this is an unfair criticism due to grey areas surrounding the legality of online poker in the United States following the consequences of Black Friday.
---
Read More: Phil Hellmuth Adds to Legacy by Crushing Non-NLH 2021 WSOP Events
---
Is Phil Hellmuth's Wife the Secret Behind His Success?
"Behind every successful man, there is a strong woman," is an old saying that often rings true, and Hellmuth himself would agree. his love for his partner, or "honey" as he often dubs, has been well professed and she's been with him every step of the way throughout his unparalleled poker career.
Katherine Hellmuth was by his side to see her husband be awarded with his 16th piece of WSOP hardware, although she was unable to watch two of his most recent final tables. With Phil knowing his wife was supporting him from the rail, it may have been the extra support needed to see him get his first WSOP win since 2018.
Well, it's 4 AM here and I checked my calendar and I noticed: it's our 30th wedding anniversary!! My wife is an ama… https://t.co/DbaRUEDsMj

— phil_hellmuth (@phil_hellmuth)
Poll: Is Phil Hellmuth the Best Poker Player of All Time?
So, who is the best poker player of all time? Is it time to unequivocally name Hellmuth as the G.O.A.T., or do the above counterarguments hold some merit? Let us know in the poll below.