Thousands of gaming industry personnel flocked to the Venetian in Las Vegas last week for four days of networking and to discuss the latest trends in casino gambling at the 2023 Global Gaming Expo (G2E).
One of the largest gaming conventions in the world each year, G2E began on Monday, Oct. 9 and concluded on Thursday. PokerNews' Chad Holloway and Jon Sofen (pictured above) attended the Wednesday session to find out what the convention is all about.
Brand New NFL Slot Machines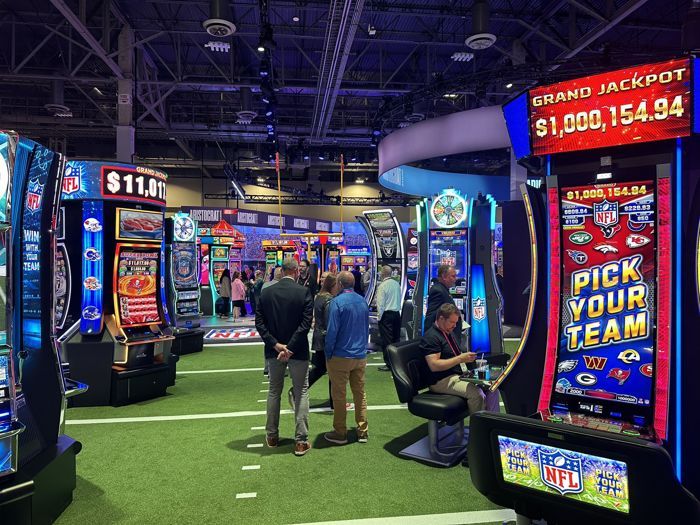 The Global Gaming Expo is an opportunity for casino executives and innovators to show off their new toys and to showcase the future of gaming. While poker wasn't at the forefront of the convention, there were many booths inside Venetian's convention center that may be of interest to all types of gamblers.
Take, for example, the NFL slot machine stage that was on display. Perhaps, you've noticed some brand-new NFL slots in Las Vegas, including at the Venetian. Ten years ago, the NFL was anti-gambling, but has now embraced gambling so much that the league is putting its brand behind some slot machines.
There's already one NFL slot machine in a few Las Vegas casinos, but many more are on the horizon, including some that were on display during the gaming expo.
Catching Up With Our Poker Peers
Poker is never the main focus of the Global Gaming Expo as the game represents just a small niche within the entire gambling community. But we did run into some familiar faces on the floor, including veteran tournament director Justin Hammer, who was in attendance representing PokerAtlas, which is owned by World Series of Poker (WSOP) bracelet winner Jon Friedberg.
Gorilla Gaming, a leading brand in live-streaming and customer poker tables, also had a booth on the expo floor. We caught up with Gorilla's Glenn McCrory, whom providing everything we needed to live-stream the PokerNews Cup this past summer at Golden Nugget.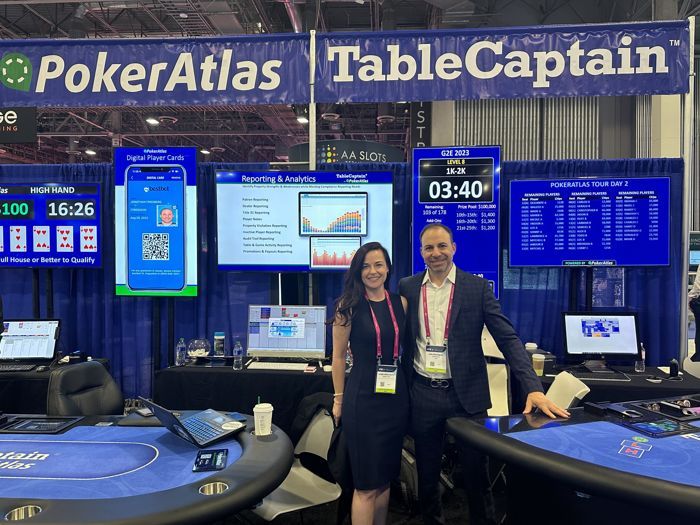 Massive Turnout at Venetian
The 2023 Global Gaming Expo, presented by the American Gaming Association (AGA), attracted more than 25,000 gaming professionals to the Venetian across four days.
"Gaming is stronger than ever, and the products and ideas displayed at G2E this week will enhance our industry's offerings not just here in Las Vegas, but around the world," AGA President and CEO Bill Miller said in a press release. "G2E does more than convene the industry—it unites us. This year's show truly highlighted the innovation and collaboration that is driving gaming's current growth and paving the way for our future."
The 23rd edition of the Gobal Gaming Expo featured 368 exhibitors and 100 educational sessions with attendees from all over the world. Payment processing companies, slot manufacturers, and just about any major gaming company attended the event. Next year's G2E is scheduled for October 7-10 at The Venetian Expo.