Earlier this year, Bill Perkins and Landon Tice played a very special heads-up match where Tice spotted Perkins 9 big blinds per 100 hands played (which equated to Perkins winning $720,000 at the start of the match).
When I made this video, the pair had completed just over 10% of the match, and at that point, Tice was winning at 10bb per 100 hands. To put things in perspective, a very good heads-up play against a bad heads-up player could be winning as much as 20-25bb per 100 hands. Tice has since conceded the match.
In this hand from the battle, there was a gigantic pot of $146,000 and Tice only had ace high! Did he make the laydown or was it the perfect spot to find a hero call?
The hand, which took place with the blinds at 200/400, began when Perkins ($88,539 – 221 BBs) raised to $960 and Tice ($70,797 – 176 BBs) three-bet to $3,800 with the
in the big blind. Perkins called and the flop came down
.
On this particular board, Tice should often opt to continuation-bet and he did to the tune of $5,000, which was perfectly reasonable. Perkins called and the
double paired the board on the turn.
When making a decision on whether to bet or not you should always ask yourself what hands you expect your opponent to call with. Tice should frequently check on the turn as he will only get called by hands that he is already either behind or hands that have decent equity against him. It is important to remember that he still has some showdown value with ace-high.
He checked, Perkins bet $7,052, and Tice called. I see no other play as with the preflop action it is unlikely Tice has many sixes or deices in his range. If you are in a situation where you know that your opponent will not be raising very frequently, like Perkins here, then it is a great spot to bet as you will often get to see the next card.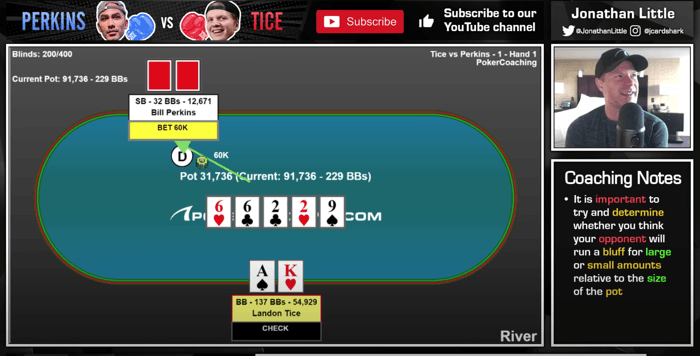 On the
river, Tice checked and Perkins bet all in for $60,000 into the $31,736 pot. What should Tice do in this spot?
Call all in for $54,929
Fold
This is a situation that you really have to factor in the particular opponent you are facing and what their strategy is. In this spot, it is likely that Perkins will either be drastically over bluffing or under bluffing. It is important to try and determine whether you think your opponent will run a bluff for large or small amounts relative to the size of the pot.
It is conceivable for Perkins to have some missed draws that would have bet the turn and then attempt a big bluff on the river. If Perkins has very few value hands he would bet this way, it is proportionately more likely that he is running a big bluff.
Tice wound up calling with his ace-high only to see Perkins roll over the
for a full house to claim the $146,700 pot.
For more on this hand, check out my breakdown in the following video:
Jonathan Little is a professional poker player and author with over $7,000,000 in live tournament earnings. He writes a weekly educational blog and hosts a podcast at JonathanLittlePoker.com. Sign up to learn poker from Jonathan for free at PokerCoaching.com. You can follow him on Twitter @JonathanLittle.