In this review, we will delve into the RNIB lotto. We will explain how playing the lotto helps partially sighted and blind people. We will show you how to play the weekly lottery. You will also learn about the RNIB Lottery prizes and odds of winning. So, read on for the complete RNIB Lottery review.
What is the RNIB Lottery?
The RNIB Lottery gives you a great way to support the work of the Royal National Institute of Blind People, coupled with the opportunity to win cash prizes. Over 250 people in the UK start to lose their sight every day. And every ticket purchased for the RNIB Feel Good Friday Lottery contributes towards helping people with sight loss. Prize draws take place each Friday, and there are 150 guaranteed weekly winners. Plus, quarterly Superdraws provide a chance to win up to £25,000.
How to Play the RNIB Feel Good Friday Lottery
You should head to the official RNIB Lottery website if you want to play the RNIB Friday Lottery. You should select five numbers from 1-49. You can choose your own lucky numbers or select the "choose for me" option. Next, select the number of lines you want to play each week. You can play up to 5 lines per week. You then click "go to payment" to set up a direct debit. To summarise, here are the steps to follow to play the lottery:
Choose five numbers
Select how many lines to play each week
Set up your direct debit
Each line costs £1 and a draw takes place every Friday at 5pm. If you play one line each week, your direct debit will be either £4 or £5, depending on how many Fridays fall in the calendar month. Direct debit payments are collected either on the 1st or 15th of the month, and you have the option to choose your preferred date.
Keep in mind that there is a 21-day gap between your sign-up date and your first direct debit being taken. You will then be entered into the next draw that takes place after your first payment is received. The RNIB Feel Good Friday Lottery is available to all Great Britain and Northern Ireland residents over 16. You need to be 18 or above to play the lottery with direct debit payment.
RNIB Lottery App
The RNIB Lottery web app offers all the functions and features of the lotto website. You can buy tickets, check results, and read about lottery winners conveniently from your mobile device. You do not need to download a native app either. The lottery website is fully mobile responsive. So, you can access the site directly in the browser of most iOS and Android devices.
RNIB Lottery Prizes and Odds of Winning
Each weekly RNIB lotto draw guarantees 150 winners. All lines are entered into an independent electronic system, which randomly selects 150 lottery lines. The first line drawn wins the biggest prize of £1000. The second line drawn wins £100. The next eight lines to be drawn each win £25. Finally, the next 140 tickets will each win a £5 prize. Here is a breakdown of the RNIB Lottery prizes:
| | |
| --- | --- |
| 🥇 1st Prize | £1000 |
| 🥈 2nd Prize | £100 |
| 🥉 3rd Prize | £25 x 8 |
| 🏅 4th Prize | £5 x 140 |
With a grand prize of £1000, this lottery game is not going to make you a lotto millionaire. Still, the odds of winning a prize are far more favourable than playing for the world's biggest lotto jackpots at the best online lottery sites in the UK. The chance of any ticket winning a prize in the Friday draw is 1 in 685. These RNIB Lottery odds are based on the 2020 results of the Feel Good Friday Lottery.
You can check the RNIB Lottery results on the official website. You can see the winning tickets for the past four draws. You can also enter your five lottery numbers into the number checker to see if you are a winner. If you have a winning ticket, you will receive a letter in the post within 21 days of the draw with your winning cheque enclosed. You will also receive a call or text shortly after a draw to inform you that you have won a prize if permission is given.
Quarterly Lottery Superdraws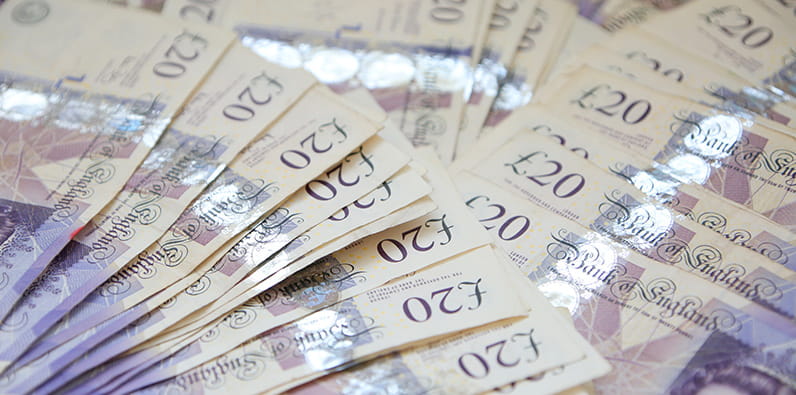 As mentioned in this RNIB Lottery review, the weekly draw does not offer the biggest lotto wins. Yet it does provide Superdraws every quarter, which offer much more substantial prizes. The jackpots up for grabs in the March, June, and September Superdraws are a cool £10,000. In comparison, the December Superdraw offers an impressive £25,000 jackpot. Weekly lottery players are automatically entered into the Superdraws for a chance to win the big money prizes. You can also buy additional lines for the Superdraws by calling the lottery hotline (0330 002 0050).
RNIB Charity Raffles
In addition to the lottery, the RNIB provides another great way to gamble and support their causes – the RNIB charity raffles. The RNIB Raise a Smile Raffles take place four times a year, in March, June, September, and December. As with the Feel Good Friday Lottery, tickets cost just £1. There are over 100 prizes up for grabs in each raffle draw. Check out the RNIB raffle prizes:
| | |
| --- | --- |
| 🥇 1st Prize | £10,000 |
| 🥈 2nd Prize | £1000 |
| 🥉 3rd Prize | £500 |
| 🏅 4th Prize | £250 |
| 🏅 5th Prize | £100 x 5 |
| 🏅 6th Prize | £50 x 5 |
| 🏅 7th Prize | £10 x 100 |
You can purchase raffle tickets online on the RNIB website using a debit card. You can also order raffle ticket books by post. You need to be 16 or above to play the charity raffle. The raffle is run under a licence from the UKGC (50055). The Northern Ireland raffle operates under a separate licence. Fewer people take part in Northern Ireland. As such, the prizes are smaller, with the first prize of £2000 and five runner-up prizes of £250.
How the Lottery Helps
Every ticket you purchase for the RNIB Feel Good Friday Lottery helps blind and partially sighted people. In 2020, 39% of all money raised through the lottery was spent helping those with sight loss. 39% of the revenue was spent on the expenses needed to run the lottery. The remaining 22% was distributed as RNIB Lottery prizes.
In 2019, the total proceeds from all Feel Good Friday Lottery ticket sales was £9,014,993. Total proceeds increased to £11,471,335 in 2020. Lottery funding is used to support various community and social activities of the Royal National Institution of Blind People. Here are some of the services that the RNIB Friday Lottery funds:
The RNIB Connect Community
Engagement in the Community
Peer-to-Peer Support
Facilitation of National Advocacy Activity
Branding and Marketing
As part of the RNIB Connect Community, lottery funds support RNIB Connect Radio. The radio station is run by and for people that have lost their sight. The project aims to promote independence among blind and partially sighted individuals. It also provides a way to reduce social isolation among those with sight loss.
Lottery Overview, Licensing, and Contact Details
The Royal National Institute of Blind People was founded on 16 October 1868 and is one of the UK's leading sight loss charities. The RNIB Feel Good Friday Lottery Limited (RFGFL) is a wholly-owned subsidiary of the RNIB. The RFGFL provides funding for the RNIB's community and society activities. The RNIB runs the weekly lottery, and Woods Valldata is the appointed Lottery Agency administering the lotto. Below we have collated RNIB Lottery contact details and company information:
| | |
| --- | --- |
| 🏢 Lottery Provider: | RNIB Feel Good Friday Lottery Ltd. (RFGFL) |
| 👩‍💼 Responsible Person: | Andrea Jones |
| ℹ️ Parent Organisation: | Royal National Institution of Blind People |
| ✅ External Lottery Agency: | Woods Valldata |
| 💸 Lottery Type: | Society Lottery |
| 🔒 Company Number: | 11275644 |
| ✔️ Registered Charity Number: | England and Wales (no. 226227), Scotland (no. SC039316) and the Isle of Man (no. 1226) |
| 🛡️ UKGC Licence Number: | 52196 |
| 📍 Address: | Royal National Institute of Blind People, 105 Judd Street, London, WC1H 9NE |
| 💻 Website: | lottery.rnib.org.uk |
| 📧 E-mail: | [email protected] |
| 📞 Lottery Helpline: | 0330 002 0050 |
| 🕰️ Customer Support Hours: | Mon – Fri 08:30 – 17:30 |
| ▶️ Social Media: | Facebook, Twitter, YouTube, Instagram |
Like all trusted gambling sites in the UK, this lottery operator is licensed by the UK Gambling Commission. As such, you can be confident that the lotto draws are truly random, and the RNIB Lottery odds give you a fair chance of winning. The lotto website uses SSL encryption certified by DigiCert. So, your private data is protected, and your transactions are secure.
The RNIB Lottery promotes responsible gambling. It offers various self-help tools and exclusion options. The operator partners with and promotes specialised responsible gambling organisations, including Gamble Aware and GamCare. The RNIB weekly lottery is also registered with Fundraising Regulator, the independent regulator of charitable fundraising in England, Wales and Northern Ireland. This further verifies that playing the RNIB lotto is safe and fair.
Other UK Lotteries that Support Charities
Throughout history, lotteries have commonly been used to raise money for charities and good causes. In addition to the RNIB Friday Lottery, various other UK lotteries are run by and for charities. If you want to support good causes and be in with a chance of winning a jackpot at the same time, you could also check out these other popular UK lotteries:
If the RNIB is close to your heart, playing the RNIB weekly lottery is a great way to support the organisation's work. All tickets you purchase will help the RNIB's important work in improving the lives of those with sight loss. And of course, you could also win a prize for your efforts.
Frequently Asked Questions
We have reached the end of this RNIB Lottery review. To wrap things up neatly, we have put together a useful FAQ section. We have researched what people ask about this society lottery and collated the most common questions. And, of course, we have provided the answers to each one.