PokerNews is known throughout the world for our industry-leading live updates for both live and online events. In fact, right now we're offering various updates right here.
Over the years, we've captured memorable hands, many of which have become a part of poker history. In this new column, we will bring you some of the biggest hands of the week as reported in the PokerNews Live Updates.
Remember, if you're playing an event PokerNews is covering, you can get in the updates via the MyStack App. You can download the app for iPhone or Android now to get started. Then, create a new PokerNews account or update your current one to start updating your status immediately. Your followers can see all the live action that you're involved in.
Click here to download the My Stack app for iPhone, or click here to download the My Stack app for Android.
Here's a look at some highlights of big and interesting hands caught in the PokerNews live updates.
Slow Play Backfires on Hellmuth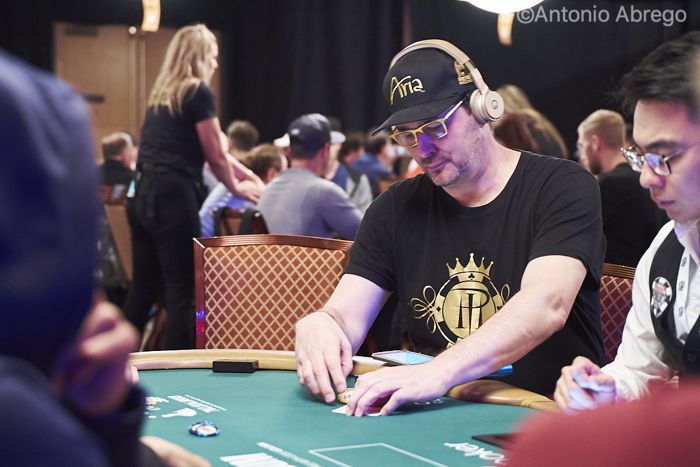 In the 2021 WSOP.com Online Bracelet Events Event #8: $888 NLH Crazy Eights, it was Level 16 (600/1,200/150) when the under-the-gun player raised and was called by John "DSauce" Sweeney from the hijack, along with Phil "lumestackin" Hellmuth from the big blind.
The
flop was checked around and the
appeared on the turn. Action was checked to Sweeny who fired out 4,031 and Hellmuth raised all in for 9,085. Only Sweeny called and the two hands were revealed.
John "DSauce" Sweeney:

Phil "lumestackin" Hellmuth:
Hellmuth flopped top-pair but was drawing dead after Sweeney turned a set of fives and the
river ended his tournament.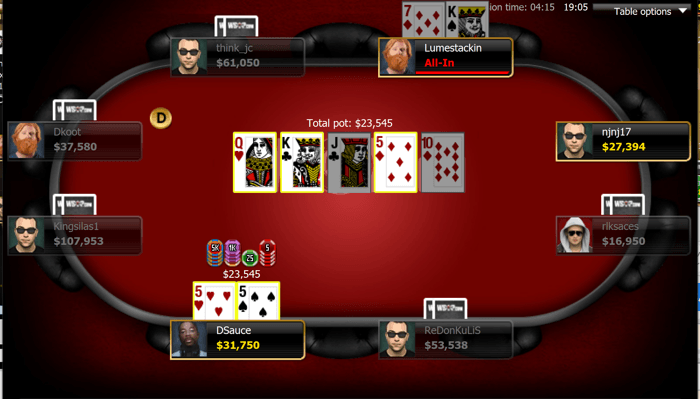 Action River Card Pays Off Big for Negreanu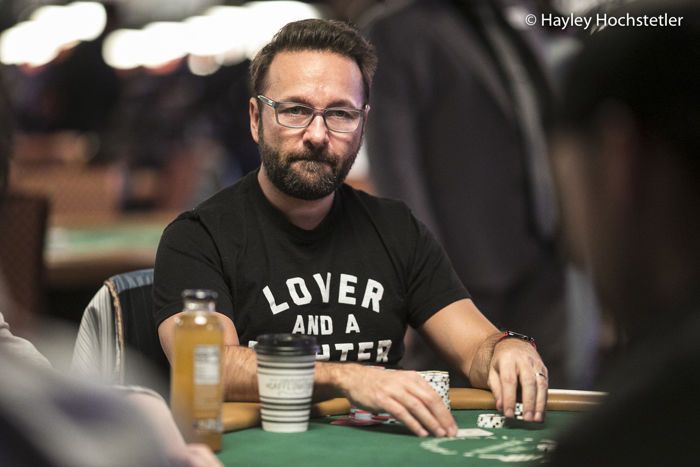 In the 2021 WSOP.com Online Event #12: $500 NLH Turbo Deepstack the blinds were 250/500/60 when Daniel "DNegs" Negreanu raised to 1,000 from the cutoff and Robert "Marz5223" Marziotto called from the small blind.
When the flop came down
, Marziotto check-called a bet of 1,000 and then action went check-check on the
turn.
On the
turn, Marziotto bet 5,040 and Negreanu jammed all in for 53,620 for a big overbet. Marziotto called with the
for a straight but it was no good as Negreanu had the
for the nut straight. That hand help Negreanu navigate the 959-entry field to finish in 62nd place for $1,208.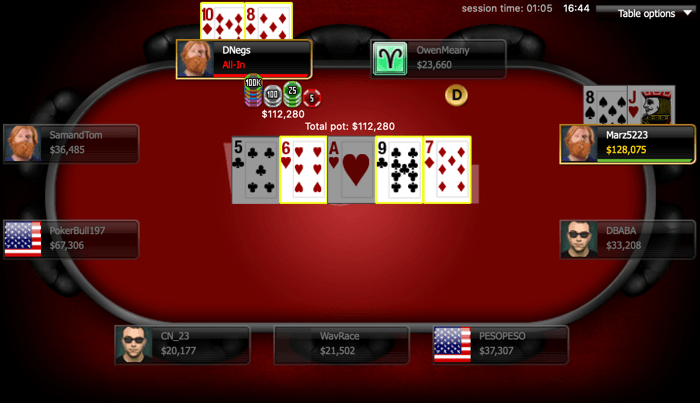 Set over Two-Pair Puts Leib on the Verge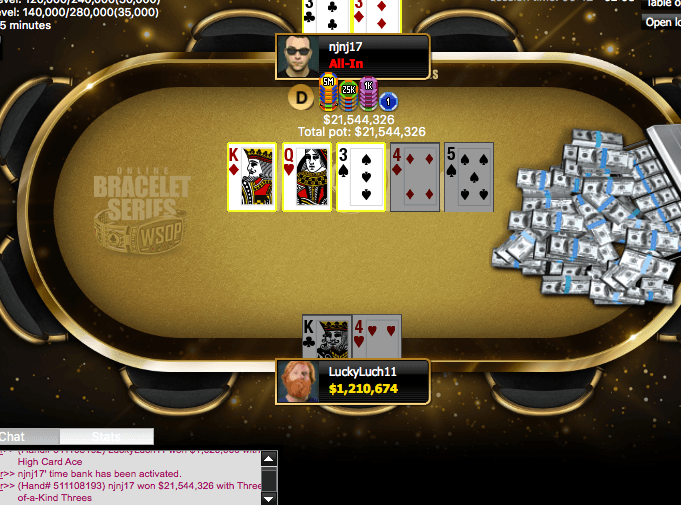 In 2021 WSOP.com Online Event #10: $333 No-Limit Hold'em, it was heads-up for the bracelet and $81,645 top prize in Level 41: 120,000-240,000, 30,000 when Michael "njnj17" Leib raised from the button and was called by Robert "LuckyLuch11" Aronowitz.
The flop came the
. There was a bet and call to swell the pot a bit more. The turn came the
. Leib bet 755,000. Aronowitz raised to 1,900,000. Leib took his time before three-bet jamming all in which Aronowitz called.
It was a cooler as Leib had the
for a set over the
of Aronowitz. The river came the
and Leib was on the doorstep of a bracelet. Aronowitz gathered a couple of small doubles after to give himself a fighting chance, but he busted a short time later.
"Honestly, I was leaning on him a little bit to start the heads-up match, I believe I had him 14.5 million to 7.5 million at one point, and then the cooler hand had to happen," Aronowitz told PokerNews. "I felt it though, I was very close to folding on the turn when he three-bet shoved on me. At that point, my mind was saying that he didn't play this way the entire time to go out with
,
, etc. without actually being able to beat
. Two pair is a monster hand in a heads-up match and we were pretty deep. Me being a novice/part-time player, I rarely/never press fold there. Somebody that grinds daily,not sure they would click fold either."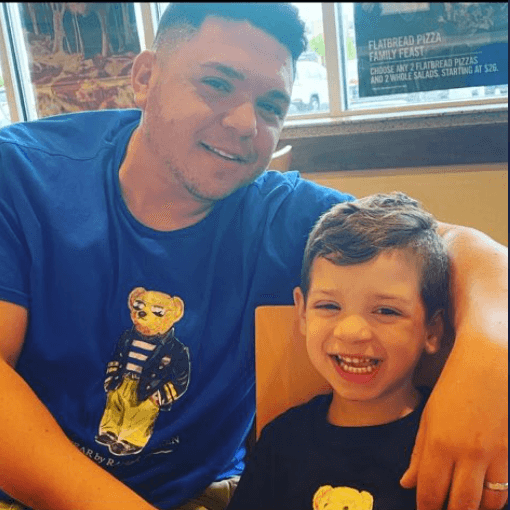 Aronowitz, a social studies teacher based in New York, continued: "I also have to add that after grinding for 12 hours staring at a computer screen, part of my brain wanted the tournament to be over right then and there. The
coming on the turn beats most of the hands he represented by raising preflop. I got a little too careless after and was really agitated and it showed. I jammed with a gutshot later on which is something I NEVER do. He played well, got lucky when it counted. This was my first heads-up match in seven years, there's a lot I need to learn about timing and sizing."
While he missed ut on the bracelet, Aronowitz still finished in second place for a $50,562 payday. Oh, and as for his "LuckyLuch11" screen name, Aronowitz explained it's for his son, Luciano, along with his own former baseball number, which was 11.
Stay up-to-date with all the latest WSOP 2021 News
Reichenstein Wins Monster Pot in Mystery Bounty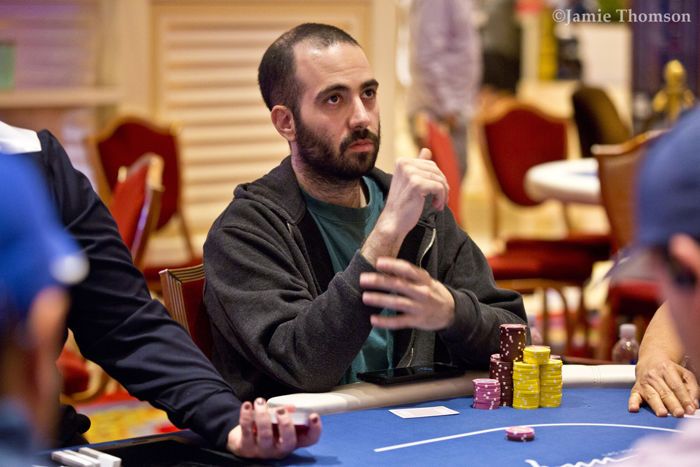 Finally, in a leftover hand from the Wynn Summer Classic, it was the final table of the $1,600 Mystery Bounty in Level 30 (75,000/150,000/150,000) when Victor Choupeaux raised to 350,000 from under the gun and Uri Reichenstein called from the hijack. Bryan Piccioli came along from the small blind and it was three-way action to a flop of
.
Piccioli checked, Choupeaux continued for 450,000, and only Reichenstein called to see the
turn.
Choupeaux bet again, this time 1.5 million, and Reichenstein paused for a bit before making the call.
When the
completed the board on the river, Choupeaux bet 2.5 million, and Reichenstein snap-called.
Choupeaux showed the
bluff while Reichenstein rolled over the
for the full boat. It proved to be a game-changing hand as Choupeaux would bow out in ninth place for $22,785 while Reichenstein went on to win it for $217,948.