Earlier this year, PokerStars announced that an exciting program created for women to learn more about poker would return in 2023, and it will soon culminate on Oct. 18 at European Poker Tour (EPT) Cyprus with a Showdown tournament, which will award a full package to EPT Prague in December
The Women's Bootcamp, in partnership with Poker Power, is aimed at beginners who will then be mentored by PokerStars ambassadors including Jen Shahade, Lali Tournier and Georgina "GJReggie" James.
The final recruits battled it out in Home Games Tournaments, where the winners were awarded the chance to travel to Cyprus and compete in the ultimate Showdown. In preparation for that event, PokerNews wanted to profile some of the women who'll be battling for the opportunity of a lifetime.
Here's a look at some of the women already profiled as part of the upcoming Showdown:
Meet the Women of the PokerStars x Poker Power Women's Bootcamp Showdown
Get to Know Patrice Gordon
Hailing from Southwest London where she lives with her dog, Charlie, 40-year-old Patrice Gordon is not only a Chartered Accountant but also a Commercial Strategy Expert and qualified Executive Coach.
An author specializing in Reverse Mentoring and Inclusive Leadership, Gordon describes herself as a globe trotter, fitness fanatic, and gastronome. Now, she can add poker player to the list.
"I started to play poker as part of the Women's Bootcamp," the rookie told PokerNews. "It has been on the list for a while but I always felt intimated by it. Jen Shahade came to a session at Harvard earlier this year and I was so inspired by her story and her encouragement that anyone can play. When the session was announced in London in June, Jen invited me along. I had a lesson and game finishing second to GJReggie and from then I was hooked!"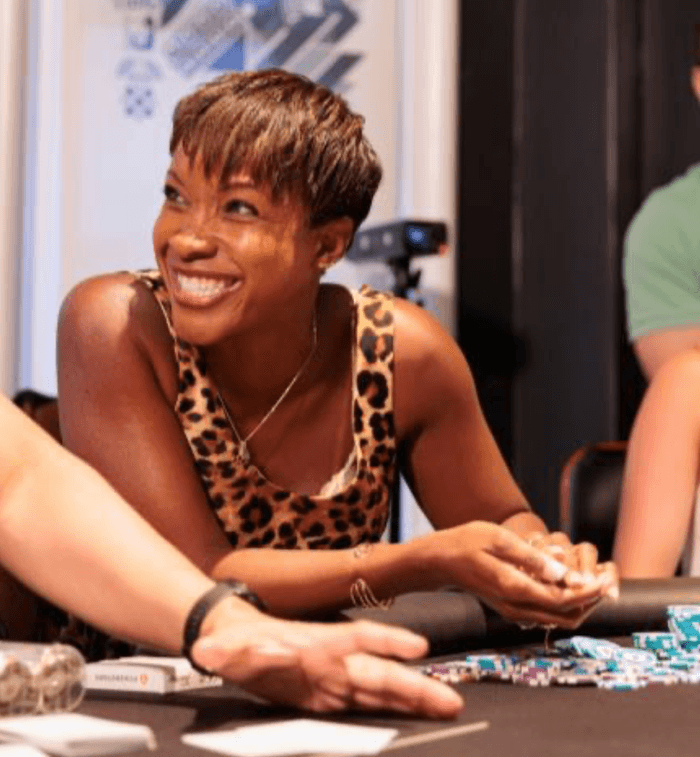 So how was the boot camp experience?
"Lisa and Tammi from Join Poker Power were great and so encouraging," Gordon said. "I loved the structure of the sessions – I could understand the build-up of the strategy and it didn't feel so overwhelming. Alex O'Brien was also great at bringing a few of us London-based women together which was even better as we have actually built friendships starting from our love of the game."
The boot camp also proved to be educational for Gordon.
"Considering I didn't have a game before, the boot camp has most certainly given me the confidence to play poker," she shared. "In addition to the monthly women's night at the Hippodrome, it really does allow you to play in a safe space with limited losses.
She continued: "I have learned a lot about myself through this game. Losing hurts but it's just a game you need to get over it quickly and move on. You can have rough games but you need to let it go and start again. When you lose repeatedly you have to be able to take a pause and come back to it. Sometimes the energy is just not right. I have had some great streaks and also some really frustratingly bad ones making me doubt myself. You can have the best hands but by some fluke, someone can have the 1/1,000,000 better combination. You can have average hands and still win if you stay in the game for long enough."
For Gordon, the trip to Cyprus to compete in the Showdown is the most exciting part of the whole experience.
"This is completely out of my wheelhouse. I love seeing people's faces when I tell them I play poker and then when I tell them I am going to Cyprus on a sponsored trip for EPT. The art of surprise! I am a really structured Type A personality; this game and process is really testing me as I have done the work and dedicated the time but the outcome is not promised. If that isn't a metaphor for life I don't know what is."
PokerStars Continues to Encourage Women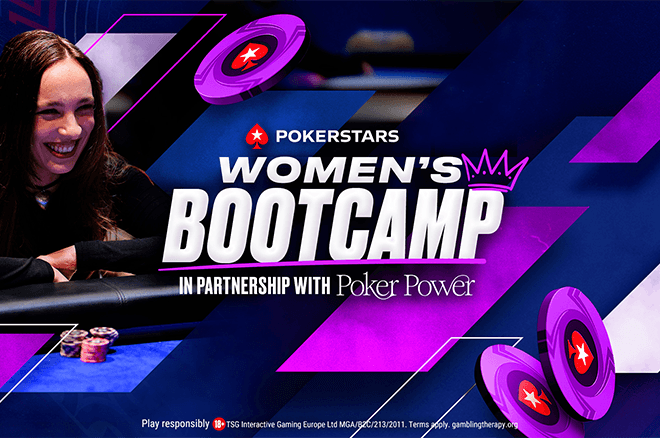 "We're delighted to be joining forces with Poker Power for the second year and continue developing our commitment to encouraging women into poker," said Rebecca McAdam Willetts, PokerStars' Director of Partnerships, PR, and Consumer Engagement. "We are doubling the length of our Bootcamp to eight weeks, and we will not only teach women how to play poker, but also provide them with skills that can be applied to their daily lives."
According to research by PokerStars in the United Kingdom, 42 percent of women who play poker believe the game brings improved focus and concentration while 38 percent believe it could improve their ability to make decisions. Despite this, over half of women surveyed (55 percent) said they feel that poker is not inclusive.
Learn More About the Women's Bootcamp!

Executive Editor U.S.

Executive Editor US, PokerNews Podcast co-host & 2013 WSOP Bracelet Winner.